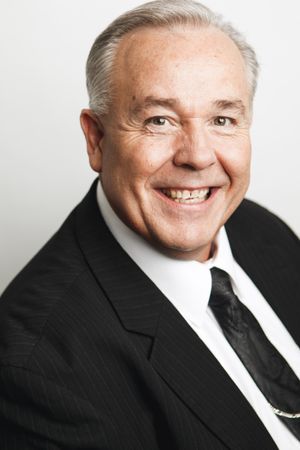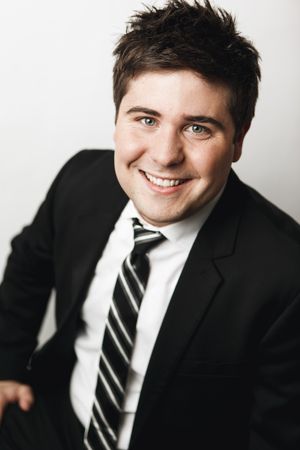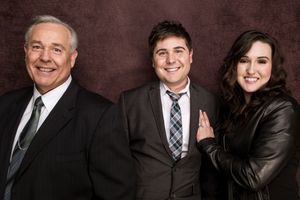 Harvey B. Lester was born February 27, 1902, in West Plains, MO.  He met Opal LuMeart in 1922 while attending an "Old Fashioned Singing School;" Opal played the pump organ at Dry Bayou Baptist Church in Hayti, MO.  Harvey & Opal married and moved to St. Louis where they began The Lester Family gospel music ministry in 1925.  
During the late 1920's, 1930's, and into the 1940's, much of their gospel singing was performed not only for churches, but also street meetings, tent revivals, and local missions in St. Louis such as the Sunshine & Zinzer Missions.
Herschel Lester, their only child, was born March 6, 1927.  He began singing with the family at a very early age.  From 1944 - 1946, Herschel  served his country in World War ll.  While serving in the Navy he directed a band which entertained service men.  This experience was the start of Herschel's love for teaching, and upon his return home, he finished high school and went on to obtain his Master's Degree in Music Education graduating from St. Louis University.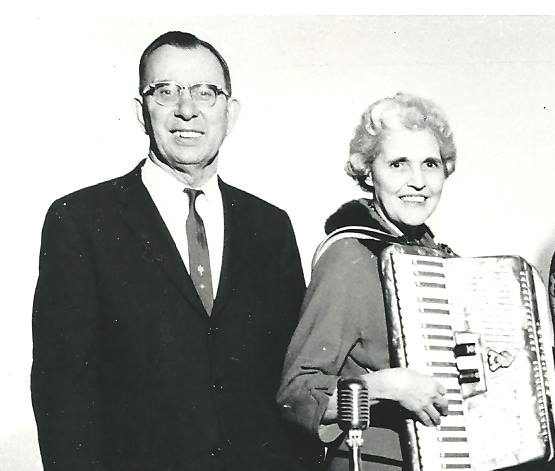 In 1943, the Lester Family made a personal appearance in Annapolis, MO.  This is where Herschel met Mary Alene Seal.  They were married on April 19, 1947.  Their first child, Donna, was born January 25, 1948, and in February of that year they opened Lester's Music Store on 39th Street in South St. Louis.  The music store remained open until November 2004.  
Brian Herschel Lester was born July 30, 1952; Ginger Lee Lester was born April 26, 1959.  The Original Lester Family:  Harvey & Opal "Bobo" Lester, Herschel & Alene Lester, Donna, Brian, & Ginger Lester.
The family began a radio program in the 1940's, which continued into the early 1980's.  They first appeared on national television in 1956 on the Ted Mack Amatuer Hour from New York City, singing the song, "The Fourth Man."  In 1960 the door opened to begin a television program.  First on KPLR - TV 11; then in 1963 they began a weekly program known as, "The Lester Family Sings," on KSD-TV 5, which was the NBC affiliate in St. Louis, MO.  This program ran weekly every Sunday morning for 27 years.  
Harvey & Opal Lester always believed that teaching & promoting gospel music was an important part of their ministry.  Gospel music was taught at the family music store, then in the 1950's they began promoting gospel singings; first at the "Old St. Louis House, then in the mid 1960's a Vaudeville Theater known as "The Kingsland Theater" became available to rent.  The Kingsland Theater hosted hundreds of gospel concerts for years to come.  Eventually the family expanded their horizons by promoting several larger singings in downtown St. Louis at the Keil Auditorium Opera House.  Where the Kingsland Theater seated 1500 people, the Keil Opera House seated nearly 4000.  Huge crowds attended the gospel singings during that period of time.  Even today you can talk to some of the gospel music artist and they'll reflect back to the time they sang on the stage of the Kingsland Theater in St. Louis, MO. 
In 1966 Mr. Lester Dill, owner of Meramec Caverns in Stanton, MO, approached Harvey Lester about coming to the cave to sing for an Easter Sunrise Service.  Since that time The Lester Family has spent every Easter at Meramec Caverns.  For a few years it remained as a Sunrise Service until an idea came about to do a pageanty about the Resurrection of Christ; this program has been presented annually ever since.  Next year, The Lester Family, along with a cast of about 50 friends, will present the pageanty of "THE CRUCIFIXION & THE RESURRECTION," which will commemorate 50 Years of Easter Services at Meramec Caverns.
One year after that first Easter Service, it was decided that Meramec Caverns would be a great venue to hold gospel concerts.  In the Fall of 1967 the first "gospel sing" ever held at Meramec Caverns took place; featuring Governor Jimmy Davis & The Lester Family.  The singing soon became known as the "Fall Festival of Gospel Music" and is one of the longest running events in gospel music history.                  
When asked how the group has sustained 90 years; Simply put - It's The Hand Of God!  There is No Other Answer.  
Our Message Has Been and Always Will Be......"CARRY THE MESSAGE OF JESUS CHRIST!  OUR MISSION STATEMENT:  The Lesters is a ministry dedicated to leading people to Jesus by sharing the Joy of Christ through music and personal testimony  /  OUR MINISTRY SCRIPTURE:  Let the Word of Christ dwell in you richly in all wisdom; teaching and admonishing one another in Psalms and Hymns and Spriritual Songs, singing with Grace in your heart to The Lord.  Colossians 3:16
As for the Mountains and Valleys  -  ABSOLUTELY; they've been there and they'll always be there.  There is No Easy Road when in ministry.  But that's Ok because Jesus didn't have "an easy road!"  I remember hearing my family singing that old song years ago, "It's Not An Easy Road," and that message holds true.  That's why I Love Gospel Music.......it's The Truth!
Our Future.......Is "Looking Good!"  We'll continue to do exactly what we've done for 90 years now, and that is to Sing, Teach, and Preach the gospel; whatever it takes!  I, Brian Lester, am extremely thrilled to be a part of The Lester Family Music Ministry.  I represent the Third Generation; my son Jonathan represents the Fourth Generation.
Our Future - Future......Waiting in "the wings" is a Fifth Generation of The Lester Family; I believe that one day they'll be heard from as they "Carry The Message!"
One might think after 90 years it would be time to stop; but for The Lesters.....stopping isn't an option.  I can't really explain it, but I have always known in my heart that singing gospel music is what God has placed me here to do.  My heart's desire has always been to sing the gospel in song; truly, it's been the story of my life.  But much more than a desire simply to sing, I believe God has had this ministry here for a purpose; dating back to its beginnings.
One last important stat:  We are highly honored that three of the original Lesters have been inducted into the Southern Gospel Music Hall of Fame;  Harvey B. Lester (2004)  ~  Herschel L. Lester (2008)  ~  Opal A. Lester (2011).
Without question our most requested song of all time is, "He Didn't Throw The Clay Away."  As long as there's anyone to sing to......we'll "keep on singing" that message.